Weekend Reads: Watching Subtitled Films, Video Rental Stores, Political Correctness
Recommended weekend reading material for February 29, 2020.
Here are some of the most interesting, thought-provoking, and enjoyable articles, blog posts, and reviews that I've read over the last week or so. They span a variety of topics and I hope they'll make for some good weekend reading material.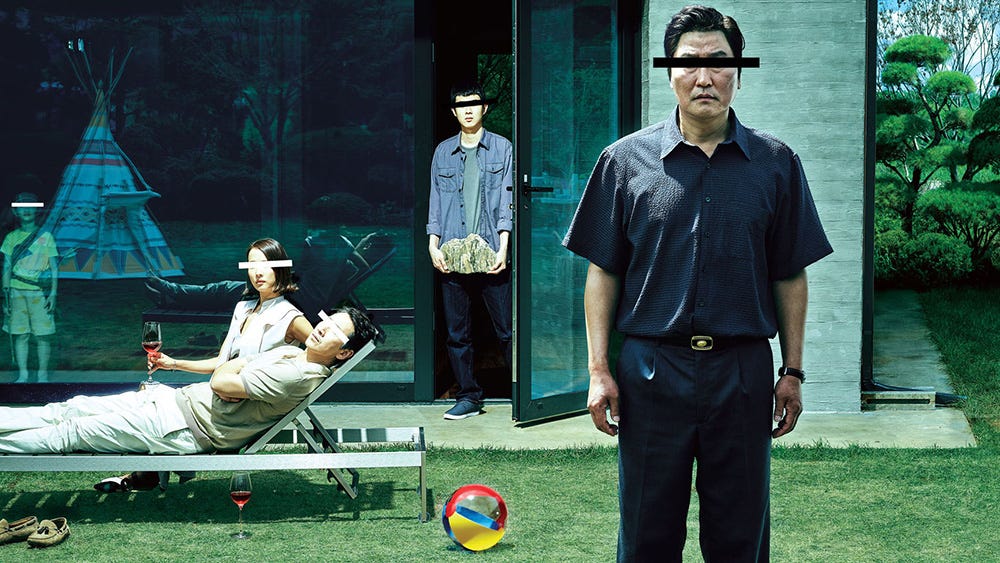 K. B. Hoyle makes a theological case for watching foreign films like Parasite and Roma with subtitles.
When we watch a film in another language with subtitles on, not only do we honor and preserve the integrity of the performances of the actors on the screen, but we immerse ourselves into the sounds and narrative rhythms of a culture other than our own. To hear them telling their stories as themselves is a way to see them better.
---
According to Rian Johnson, Apple won't let movie villains use iPhones.
So while we could debate the subjective nature of the "bad guy" label in films like Knives Out — where not everyone is a murderer, but there are still multiple shitty people at play — it's unlikely that the story's central villain will be seen chatting up his prey on the iPhone 11 anytime soon.
Be sure to watch Johnson's video breakdown. Not only is it fascinating from a filmmaking perspective, but Johnson comes across as a genuinely swell guy.
---
Want to see the best movie chase sequence of all time? Watch Wallace and Gromit.
The Wrong Trousers' train-chase climax epitomizes that principle. A criminal penguin moves in as Wallace's lodger, and drives Gromit out of the house. He plans to use Wallace as his unwitting accomplice and scapegoat, putting him in a pair of mechanical trousers that force Wallace to do his bidding. Gromit figures out the scheme, and returns to the house to take the penguin on. The confrontation culminates in a chase involving a toy train set that handily beats out any other chase scene ever put to film.
Related: Our family recently watched A Shaun the Sheep Movie: Farmageddon, which is now streaming on Netflix. It's precisely what you'd expect if you've ever seen an Aardman Animation movie — and as it turns out, that's all you really need.
---
Although video rental stores have largely died out due to the rise of streaming services like Netflix, there are still some holdouts, like Louisiana's National Video Superstore.
The bulk of the store's profits come from a core of loyal, long-term customers such as Les Dykes of West Monroe, a customer since 1989 before the Chambliss family acquired National Video Superstore, and Ervin Clark of Monroe.

"I'm shocked they're still here, but I'm glad," Dykes said.

"I still love coming into the store and browsing and looking at the walls full of movies," Clark said. "It's really one of my enjoyments."
---
Although it's typically associated with left-wing/liberal politics, David French contends that right-wing religious circles have their own form of political correctness.
Wait. Right-wing political correctness? Doesn't the right fight political correctness? Well, one way the religious authoritarian right fights the secular authoritarian left is by creating a mirror image reality — complete with cancel culture, exaggerated anger, and an entire glossary of terms designed to denigrate and marginalize opponents without engaging in substantive argument. 
---
Mazzy Star's co-founder David Roback has passed away:
The reclusive songwriter and guitarist known for his stark yet evocative playing was 61. His publicist confirmed his passing, but no cause of death has been announced, the Times reported.
Prior to Mazzy Star, Roback co-founded The Rain Parade and Opal. On a personal note, I was absolutely enchanted by "Fade Into You" when I heard it as a college freshman. I'd drop everything to watch the video whenever it played on MTV — and I find it just as enchanting now.
---
Here's a clever idea for combating musical copyright lawsuits:
Two programmer-musicians wrote every possible MIDI melody in existence to a hard drive, copyrighted the whole thing, and then released it all to the public in an attempt to stop musicians from getting sued.
And if you want your noodle baked a little bit:
"Under copyright law, numbers are facts, and under copyright law, facts either have thin copyright, almost no copyright, or no copyright at all," Riehl explained in the talk. "So maybe if these numbers have existed since the beginning of time and we're just plucking them out, maybe melodies are just math, which is just facts, which is not copyrightable."
Via The Loop.
---
In honor of the 50th anniversary of Black Sabbath's self-titled debut, Jeff Terich lists 10 of the greatest metal riffs of all time.
"Black Sabbath" didn't just create a sound, however, it established the basic unit by which all metal music is measured: The riff. You don't have a great metal song without a great riff, and as much as the "it's about the riffs, bro" dudes deserve a good clowning when they defend indefensible artists, well, you still do need a good riff.
---
Astronomers have discovered the biggest explosion in the history of the universe.
The explosion occurred in the Ophiuchus galaxy cluster, about 390 million light-years from Earth.

It was so powerful it punched a cavity in the cluster plasma — the super-hot gas surrounding the black hole.

Lead author of the study Dr Simona Giacintucci, from the Naval Research Laboratory in the United States, said the blast was similar to the 1980 eruption of Mount St. Helens, which ripped the top off the mountain.

"The difference is that you could fit 15 Milky Way galaxies in a row into the crater this eruption punched into the cluster's hot gas," she said.
Related: The universe is an extravagant place, mirroring the extravagance of its creator.
---
Longtime Opus readers will know that my favorite superhero is the Silver Surfer, son of Zenn-La and former herald of Galactus, the Devourer of Worlds. This past month, I published two lengthy pieces on the character. The first is a deep dive into the Silver Surfer cartoon that originally aired on the Fox Kids Network in 1998. The second is a review of Silver Surfer: Black, the hero's latest comic series.
---
If you enjoyed reading this, then consider becoming a subscriber to get access to exclusive content, including Spotify playlists and podcasts.