Weekend Reads: Opus Updates, Vincent Price, Science Fiction, "Losing My Religion," Quibi, Zeptoseconds
Recommended weekend reading material for October 24, 2020.
Every week, I compile a list of interesting, thought-provoking, and enjoyable articles to give you some good weekend reading material.
Before I get to the links, I wanted to update you concerning some recent changes to Opus. First, the site's sporting a new look that hearkens back to its earlier, more minimalist designs. As part of the redesign, I returned to Alegreya (arguably my favorite serif font), which looks smashing when paired with the more geometrically minded Avenir Next (one of my favorite sans-serif fonts).
Second, you can now filter the site's review archives by topic (e.g., music, movies, anime, TV). There are over 1,600 reviews on Opus, and hopefully, this will encourage readers to dig deeper into the archives and find something new to enjoy.
Finally, I've added a "Now" page that provides a brief overview of what my life currently looks like, what I'm reading/watching, etc. (The "Now" page was inspired by Derek Sivers and Frosted Echoes, and will be updated every few weeks.)
Now, on to the links…
---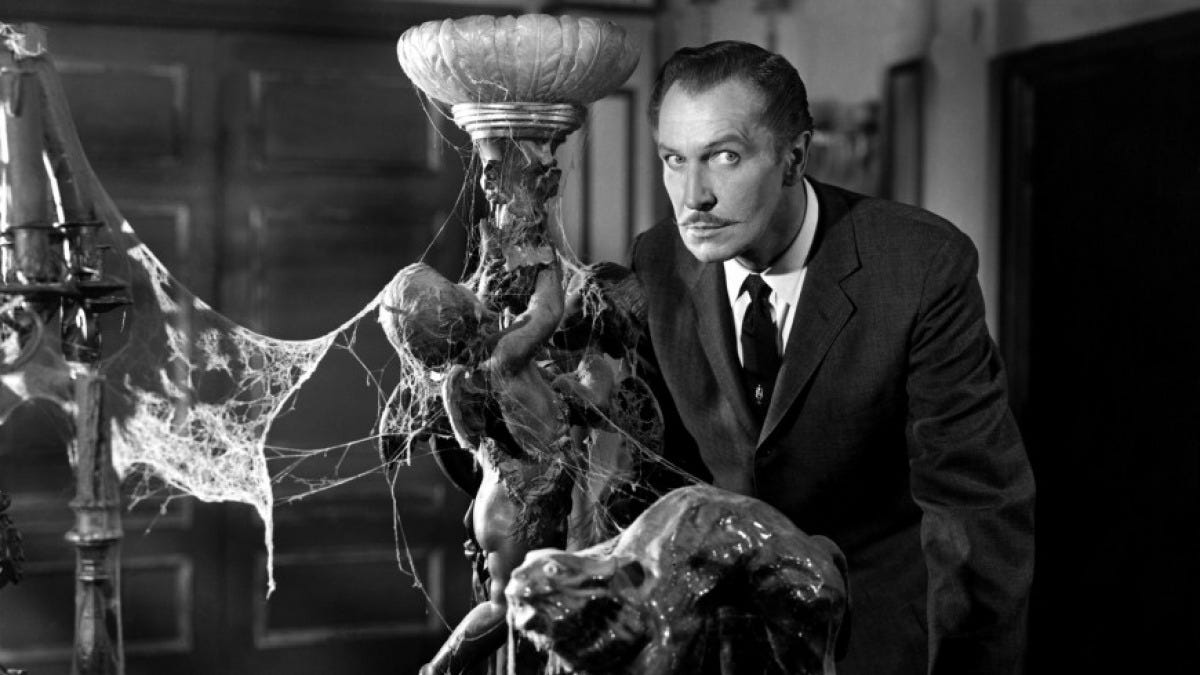 Just in time for Halloween, Walter Chaw lists his favorite Vincent Price films.
Presented with the unenviable task of choosing just ten Vincent Price films to recommend this bleakest of Halloween seasons, I choose instead to recommend all of them to some extent or another. But if you're looking for a place to start — limiting ourselves to just those available currently to stream and allowing that there are maybe twenty that belong on any "top" ten Vincent Price flicks — well, here are my personal favorites.
I'm glad to see that The Last Man on Earth made the list alongside some of Price's Edgar Allan Poe films that he made with famed "B-movie" director Roger Corman.
---
Polygon recently had a week of posts celebrating all things science fiction, from lists of great sci-fi movies, video games, and books to more philosophical topics, like the genre's capacity for imagining a better future.
Science fiction has always had a paranoid undercurrent. Going back to the dawn of the genre, it's been used as a channel to explore and process anxieties about all the unknowns ahead, and all the ways technological innovation, societal change, and our own tragic flaws could lead us wrong as a species. But even so, the last few decades have seen an almost obsessive focus on dystopian fiction, post-apocalyptic stories, and the grimmest of cautionary tales, where society has to reach torturous lows before anybody can meaningfully start fighting for the future again.
If you need me, I'll just be over here watching my favorite episodes of Star Trek: The Next Generation.
---
Well, everyone knows that witches were horribly persecuted during the Middle Ages. What Luke T. Harrington's latest piece presupposes is... maybe they weren't.
Belief in witches is neither uniquely Christian nor uniquely European — it's actually quite historically common throughout Asia, Africa, and the Americas as well — and in fact, the medieval church did a great deal to suppress witch hunts, consistently teaching that belief in witches was a pagan superstition, basically from St. Augustine on. While there was a handful of witch hunts in the medieval period, they were almost exclusively of the "mob violence" variety, with almost no involvement of — and often direct opposition from — both church and state. In other words, witch hunts were actually extraordinarily rare in Europe.

Y'know. Until they weren't.
---
Simon Collison writes about his visceral reaction to the "Losing My Religion" episode of Netflix's Song Exploder.
As the song reached its end, I cried, because a tumble of meanings hit me. Because it's about the pain of unrequited love, and I remember that pain. Because there's something strange about how the song came to be, and I love that weirdness. Because it's perfect, and few songs sound so whole. Because I watched This Film Is On until the tape snapped, and I could draw every frame. Because I remember how much my Dad loved it, and I miss him. Because I can't remember it not being there, and I need it to be there.
My wife and I watched this episode a few days ago, and it's excellent. I love how Collison captures the power that a song — even one you've heard many times — can still have. And I couldn't agree more with this statement: "I can't fathom why or how anyone could be indifferent to music when it enriches everything that happens to us."
---
In 2017, the queer punk band PWR BTTM was quickly and effectively "canceled" after one of their members was accused of sexual assault. Three years later, Ben Hopkins is working on new music while still grappling with the accusations.
Other public figures with higher profiles and known accusers — Chris Brown, Robin Thicke, Supreme Court Justice Brett Kavanaugh and President Donald Trump, to name a few — have been allowed to carry on their careers despite allegations of sexual misconduct. The claims against Hopkins are unusual and frustrating, in part, because they're anonymous — and those who made them have chosen to remain silent. After more than three years of pondering the path forward, Hopkins is prepared to fight for a second chance. "I am not guilty of this," they say, "and I need to move on with my life."
Shortly after PWR BTTM's fall from grace, I wrote about the band's sudden downfall and the broader topic of dealing with art made by "problematic" artists.
---
The U.S. government recently filed suit against Google, claiming that the company's business practices are anti-competitive and monopolistic. It's a rare example of the right and left uniting, but they're doing so for very different reasons.
The progressive flank of the Democratic party, such as Sen. Elizabeth Warren (D-MA) and Sen. Bernie Sanders (D-VT), have long argued that the US needs new laws to break up big tech companies, which they say have amassed too much market power and are hurting the American people and economy.

At the same time, Republicans have been ramping up their attacks on tech for a more specific reason: alleged and unproven "anti-conservative" bias. Facebook's and Twitter's recent efforts to fact-check and even block unsubstantiated claims made by Republican politicians and some conservative-leaning news outlets have further fueled these complaints.
Don't expect this case to be resolved anytime soon. It'll likely take years for this case to be resolved (similar to the Microsoft antitrust case back in the late '90s).
---
So much of our lives depends on cloud-based web services: the media we stream, the software on our computers, and even the fonts on our favorite websites. The cloud is inescapable these days, but as Nick Heer points out, there's a downside to that.
It also means that our computers must be either constantly or regularly connected to the internet. There are often non-optional software updates that we must install before being able to do anything else. Those updates often introduce new bugs that may or may not be corrected in a later update, and frequently contain redesigns or different layouts that require us to re-learn something. If we stop paying for software, we lose access to it and, sometimes, files created in its proprietary formats. Our access to a specific piece of media is dependent on whatever licensing agreement a multinational company has been able to strike with another. Despite having near limitless choice, we still watch the same shows.
Regarding his last two sentences, I've noticed that a lot as I've prepared my monthly streaming recommendations.
---
Less than seven months after its official launch, the mobile-oriented streaming service Quibi is shutting down.
Quibi launched in the US and Canada in April as a service designed for watching on the go — just as swaths of North America were locking down because of the COVID pandemic. Its timing was one of several misfortunes and flawed strategies that kept the service from reaching its ambitious growth goals. The company's mobile-only scheme also underestimated viewers' interest in watching on TVs. Quibi's initial design didn't allow for easy sharing on social networks, stunting virality and word of mouth. And it was hit with a lawsuit from interactive-video company Eko, which claimed Quibi's rotating-screen technology was a rip-off of its own. (Quibi rejected those allegations.)
Given that Quibi had raised nearly $2 billion from investors, it's hard to think of its quick demise as anything other than an embarrassment. The Verge's Julia Alexander counts the reasons for Quibi's failure.
---
It takes light 247 zeptoseconds to cross a hydrogen molecule, which is officially the shortest amount of time ever measured.
A zeptosecond is a trillionth of a billionth of a second, or a decimal point followed by 21 zeroes and a 1. Previously, researchers had dipped into the realm of zeptoseconds; in 2016, researchers reporting in the journal Nature Physics used lasers to measure time in increments down to 850 zeptoseconds. This accuracy is a huge leap from the 1999 Nobel Prize-winning work that first measured time in femtoseconds, which are millionths of a billionths of seconds.
---
From the Blog
Pixar's latest movie, the spiritually minded Soul, won't arrive on Disney+ until Christmas Day, but critics have already begun posting reviews following its premier at the 2020 London Film Festival — and so far, they're unanimous in their praise.
Soul stars Jamie Foxx as Joe Gardner, a music teacher and aspiring jazz musician. When his soul gets separated from his body, Gardner embarks on a journey beyond this mortal coil to figure out what makes the human soul tick. Along with Foxx, Soul also features the voices of Tina Fey, Questlove, Angela Bassett, Graham Norton, and — I'm very excited about this — the one and only Richard Ayoade.
Soul will be available to Disney+ subscribers without any additional fees (unlike the earlier release of Disney's Mulan).
---
This post is available to everyone (so feel free to share it). However, paying subscribers also get access to exclusives including playlists, sneak previews, and podcasts. If you'd like to receive those exclusives — and support my writing on Opus — then become a paid subscriber today for just $5/month or $50/year.