Weekend Reads: Calvin and Hobbes, The Snyder Cut, Satanic Panic, QAnon, Nostalgic Music
Recommended weekend reading material for May 23, 2020.
Every week, I compile a list of interesting, thought-provoking, and enjoyable articles, blog posts, and reviews. I hope they provide you with some good weekend reading material.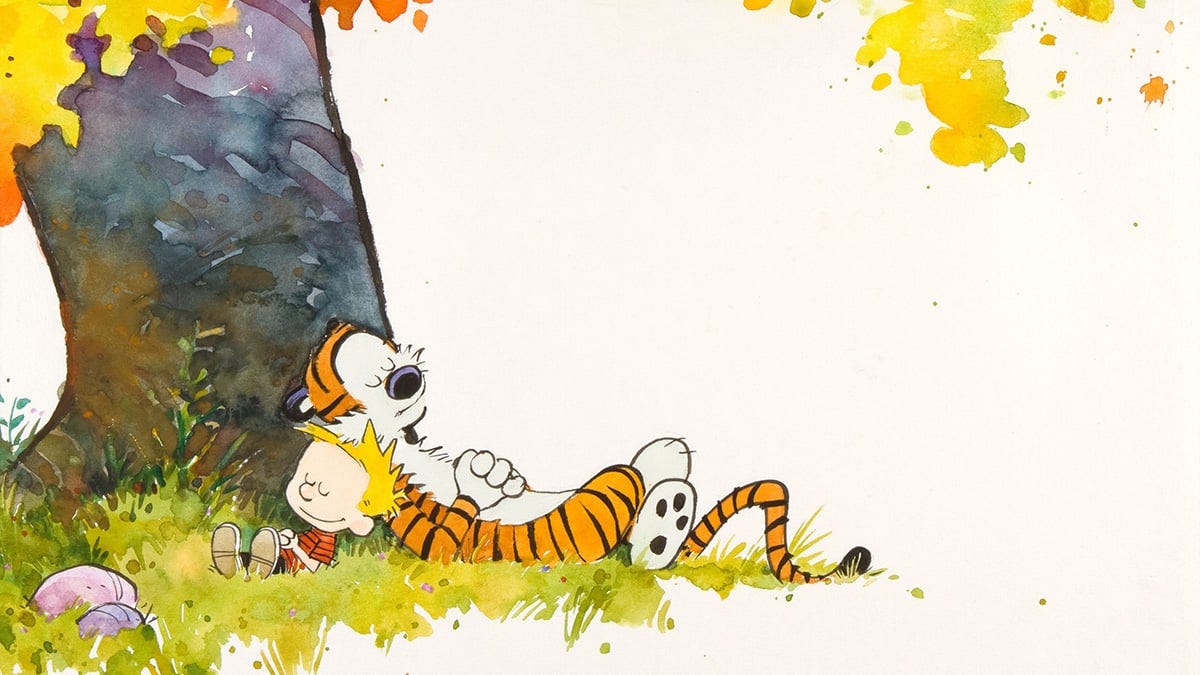 Perhaps the best thing that you can do during this pandemic is to pour yourself a big bowl of Chocolate Frosted Sugar Bombs and read some Calvin and Hobbes.
I think here in isolation, where we're alone and lonely, there's more to find in the Calvin and Hobbes that Watterson gave us. We can find a small child, an anarchist boy, and his outsized imagination. We can find the friends he makes in his own mind, the adventures that exist in his head. We can find someone who already understands the rigors of being trapped by circumstances he did not approve of — no, not a rampant pandemic, but the doom of homework, the torment of bathtime, the particular trials of being trapped in the house with your family. And we see too the solutions to that: limitless, even lawless, imagination.
---
It's a rumor no longer: the "Snyder Cut" of 2017's Justice League will see the light of day on HBO MAX.
As for details regarding the release: the plan is to roll THE SNYDER CUT out in 2021, with either a 4-hour director's cut or a six-chapter series. According to THR, Snyder is currently wrangling together "the original postproduction crew to score, cut and finish visual effects." This is really happening, it's not a joke, and you know damn well we're all gonna watch it.
If you don't know anything about the "Snyder Cut," that THR article will get you up to speed. FWIW, I'm intrigued. I didn't love Justice League, nor did I hate it, but it was clearly a flawed film. Of course, the impending release of the "Snyder Cut" raises all sorts of questions concerning the relationship between fandom and artists, the different between fan passion and fan entitlement, etc.
---
Given the success of Bong Joon-ho's Parasite, I'm not surprised that more attention is being given to Korean cinema. I am surprised that folks are talking about an English remake of Save the Green Planet, one of my favorite Korean films.
The off-beat, black comedy-sci-fi mashup from 2003 follows a man who believes the world is on the verge of an alien invasion and sets out to save the planet by first kidnapping his boss.
I caught Save the Green Planet at a midnight screening at the Toronto International Film Festival, and it's one of my favorite theater-going experiences of all time (read my review of the movie).
---
Writer/director Shane Carruth, who's made two very excellent indie sci-fi films — Primer and Upstream Color — is giving up on filmmaking.
I've got one last project in front of me. I shouldn't say anything about it. I'm still defining the edges. But that is it for me. I'm not going to say I'm doing a project and then hope Paramount gives me a deal or whatever the hell. I'm not doing that anymore. There's a thousand other things I'm interested in doing in life that I don't talk about, because they don't matter to film Twitter.
It's a shame, but Carruth's frustration doesn't surprise me. His films, for all their brilliance, are totally out of step with the commercial Hollywood system. It sounds like he's quitting before he gets totally broken down by the movie industry.
Read my review of Carruth's Primer.
---
The writers at The AV Club have compiled a list of the greatest video game endings of all time. Needless to say, there are spoilers galore.
To conclude a story well is no easy thing; to do so when you've got a hundred thousand players all trying to make it the perfect expression of their individual tale of heroism or sorrow borders on the absurd. But across genres and generations, these games — presented in order of chronology (mostly) — proved that it's not always impossible to go out on top.
---
Celebrated comedic actor Fred Willard (Best in Show, A Mighty Wind, Waiting for Guffman) has died at the age of 86.
"A four-time Emmy nominee radiated a unique charm that established him as one of our generation's most gifted comic actors," Willard's rep wrote in a tribute. "A master of sketch comedy, Fred was most heralded for his quick wit and improvisational expertise, which he demonstrated in hundreds of appearances on stage, on the big screen, and on a wide range of television shows."
Fred Willard's final TV performance will be in Netflix's upcoming Space Force, which begins streaming on May 29 and also stars Steve Carell, John Malkovich, and Lisa Kudrow (watch the trailer).
---
Paul Jarvis laments the current state of online writing:
By chasing the current state of content we can lose what made the internet awesome in the first place: unique voices, sharing specific ideas, for a tiny subset of folks interested in them, clicks and viral-ness be damned. Writing for everyone really means writing for no one. It means using shock and outrage, changing every few minutes, to create share-worthy rage but nothing else. It means clicking through 19 slides to realize the information presented was designed more to get you to see an advertisement than to share something useful with you.
---
Luke Harrington points out the parallels between the conspiracy theories of today and the "Satanic panic" of the '80s and '90s.
Those who were determined to believe that murderous, abusive satanic cults were real responded that the reason for the lack of evidence was that Satan's minions were just that tricky, and they covered their tracks perfectly. The problem with that, of course, is the same problem that exists with all conspiracy theories: when a lack of evidence is itself considered evidence, you can claim literally anything you want to be true.
I grew up in the midst of the Satanic panic of the '80s, and spent a considerable portion of my youth watching videos re. the evils of rock n' roll, reading exposés on cults and the dangers of Dungeons & Dragons, and of course, swapping horror stories and rumors with other kids in my Christian circles. (And of course, the more horrific and salacious the rumors, the better.)
---
Adrienne LaFrance explains why "QAnon" — a phenomena that has sprung up around an anonymous news source that numerous Trump supporters have flocked to — is more than just another conspiracy theory.
QAnon is emblematic of modern America's susceptibility to conspiracy theories, and its enthusiasm for them. But it is also already much more than a loose collection of conspiracy-minded chat-room inhabitants. It is a movement united in mass rejection of reason, objectivity, and other Enlightenment values. And we are likely closer to the beginning of its story than the end. The group harnesses paranoia to fervent hope and a deep sense of belonging. The way it breathes life into an ancient preoccupation with end-times is also radically new. To look at QAnon is to see not just a conspiracy theory but the birth of a new religion.
---
I've been a fan of epic45's brand of nostalgia-soaked ambient pop for many years, and their latest album, We Were Never Here, is one of their best.
It makes sense that We Were Never Here, the latest album from the duo of Ben Holton and Rob Glover — aka, the nostalgist pop group epic45 — is the musical accompaniment for a book of the duo's photography. Thanks to releases like Weathering, In All the Empty Houses, and May Your Heart Be the Map, epic45's discography has long been typified by nostalgia-soaked shoegazer-y music that's perfectly suited for thumbing through aging, faded photos from decades long since gone.
Recommended if you like The Durutti Column, Boards of Canada, and the Ghost Box label.
---
This post is available to everyone (so feel free to share it). However, paying subscribers also get exclusive content including playlists, sneak previews, and podcasts. If you'd like to receive those exclusives — and support my blogging on Opus — then become a paid subscriber today.